Written by NUST Admissions expert Fiaz Riaz this blog "NUST Business School Admissions 2023: A Must Read Guide" is the only guide you need to know everything about getting admission in NUST Business School (NBS).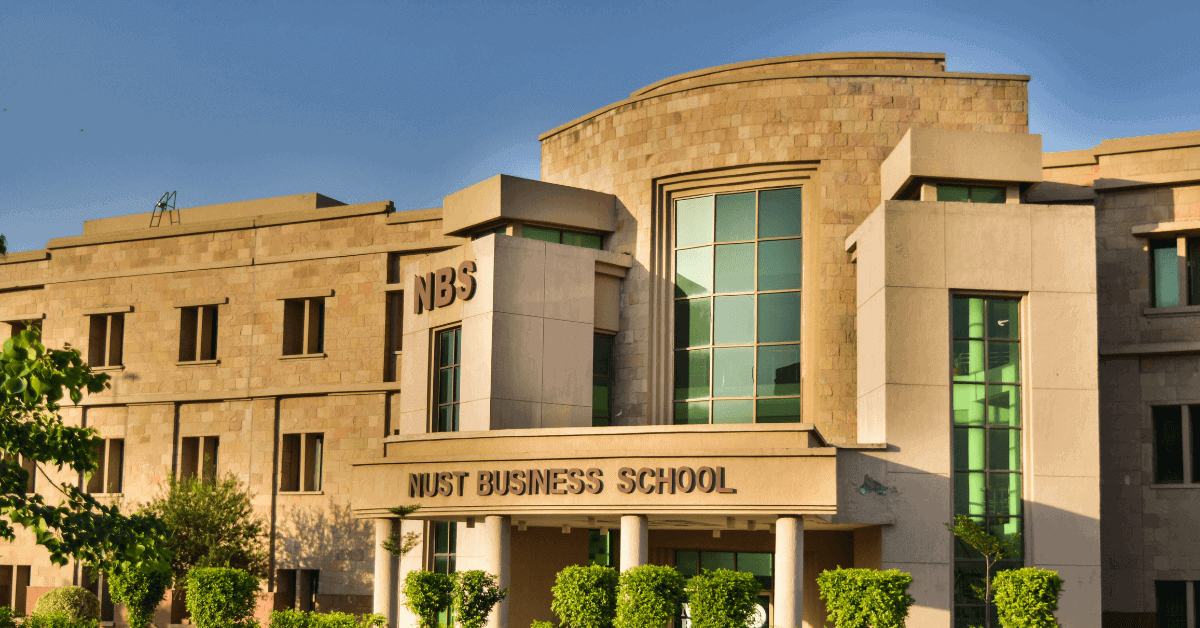 NUST Business School Overview
NUST Business School (NBS) is one of the prestigious institutes for Business Studies in Pakistan. Established in 1999 as NUST Institute of Management Sciences (NIMS), it was then renamed as NUST Business School in 2008 aiming to meet the unique and unparalleled corporate world challenges in 21st century. If you want to pursue career in multinational corporation or have a dream to be an entrepreneur, NUST Business School (NBS) should be a must consider choice for Business Studies.
How to get into NUST Business School (NBS) after A levels or Intermediate Levels? This is the most common and most general question being asked by students. In this blog we shall try to explain the admission process in NUST Business school step by step and our focus will be on Bachelors Programs.
Programs being offered by NBS
NUST Business school is offering Bachelor's Degrees in BBA (Bachelor's in Business Administration) and ACF (Account and Finance). NUST takes 100 students for each programs every year and they are grouped into two sections (50 students per section).
| Bachelor's Programs | Total Seats |
| --- | --- |
| Bachelor's in Business Administration (BBA) | 100 |
| Bachelor's in Accounting and Finance (ACF) | 100 |
| BS in Tourism and Hopitality Management | 100 |
Eligibility Criteria to apply for NBS
Minimum 60% marks in Intermediate/A-Levels or equivalent education level is required to be eligible to apply for any program in NBS. Students coming from American, British or other international systems (GCE/GCSE/IGCSE/IB/AP etc.) are required to get equivalence from IBCC
NUST Entry Test for NBS
Thousands of students apply for admissions in NUST Business School every year. In order to provide them a common ground NUST has its own entrance exam system commonly known as NUST Entrance Test or NUST Entry Test (NET). NUST conducts NET thrice a year to give students maximum leverage to prove themselves in the test. NET- 1 is conducted in December, NET-2 in March and NET-3 in June-July. So is there any difference in all three series? The answer is: there is no difference in all these three series and they are conducted as per same standards.
Note: For Admissions year 2023 NUST will conduct NET four times. For details check Overview section.
Deep Dive into NET
NUST Entry Test (NET) is conducted in three cities of Pakistan: Islamabad, Karachi, Quetta. In Karachi and Quetta its a paper based test while in Islamabad its Computer Based Exam. NET for NUST Business Schools is a three hours MCQs based exam in which you have to answer 200 Questions. There is no negative marking. Breakdown of the subjects is as follows:
| Subject | No. of Questions | Weightage |
| --- | --- | --- |
| Mathematics | 80 | 40% |
| English | 80 | 40% |
| Intelligence | 40 | 20% |
Overview of NET for NUST Business School Admissions
| | |
| --- | --- |
| Total No. of Questions | 200 |
| Total Time | 3 hours (180 minutes) |
| Negative Marking | No |
| NET-1 Series | December 2022 |
| NET-2 Series | February 2023 |
| NET-3 Series | April 2023 |
| NET-4 Series | May – June 2023 |
Merit Calculations
One major difference between NUST and other universities in Pakistan is their merit calculation criteria. NUST takes NET very seriously while considering your merit for admission. NET counts for 75% of total merit while Intermediate or equivalent counts 15% and Matriculation or equivalent counts 10%. It seems annoying for many students with excellent academic scores as they have to work hard to complete in NET and their shinning grade don't give them much leverage. At the same time it provides another chance to many students who have as low as 60% scores but want to strike again with full force.
| Level/Test | Weightage |
| --- | --- |
| Matriculation or equivalent | 10% |
| Intermediate or equivalent | 15% |
| NUST Entry Test | 75% |
| Total | 100% |
How much Score is required in NET for NBS Admissions?
Merit for NBS admissions goes on increasing every year. We can estimate how much score is required to get admission into desired program on the basis of last year's results. As per 2021 NUST Business School admissions closing merit, 150+ is considered as safe zone for Accounting and Finance (ACF) and 155+ is considered as safe zone for BBA.
| | |
| --- | --- |
| Program | NET Score (out of 200) |
| ACF | 150+ |
| BBA | 155+ |
How to prepare for NET to get into NUST Business School
Now let's come towards the most important question: How to prepare for NUST Entry Test to secure admission in NUST Business School? The most critical thing required here is your determination to get into NUST. Once you are fully committed with yourself, find a professional coach for NET who can prepare you for the test with proven techniques and training. Preparing for NET or any Admission Test is not like preparing for your O/A Levels or Matriculation/Intermediate exams. So just doing a lot of (random) Math, memorizing thousands of words of English and trying to solve intelligence questions with wrong techniques won't help you ace the test. You need some special tools and techniques to attack the question and choose the right answer to get a mark. So find a professional coach who can work with you to get you into your dream university.
Pro Tips to Score 160+ in NET 2022
If you are still reading this, let me congratulate you because you seem to be fully determined and motivated to get into NUST Business School. Here are some Time Tested Pro-Tips to help you score 160+
Start your preparation not too early not too late. As per our experience, students who start preparation 2 months prior to test score best in NET
Always follow the syllabus outline for the test. (Note: you can ask us for syllabus if you don't have)
Avoid random material available on internet and any irrelevant books.
You don't need to go through O Levels/Matric or A Level/FSc books to prepare for the test.
Work with your coach to make a strategy to achieve desired score.
Find Professional Help and get training from a Pro-Level Coach.
Have Faith in yourself
Get Professional Help (Recommended)
No matter where you are. If you are committed to give your best shot in NET, We are here to help you achieve your Goal! We have been preparing students for NUST Business School for last 7 Years and 90% of our students recommend us to their friends and family they care about (because sharing is caring). We do offer Online Cohort Classes and One-to-One coaching (Online) for NUST Entry Test (NBS/S3H). Why not contact us now and setup your Demo Class?